The Speaker Launcher Success Store
You may search for the product you're looking for: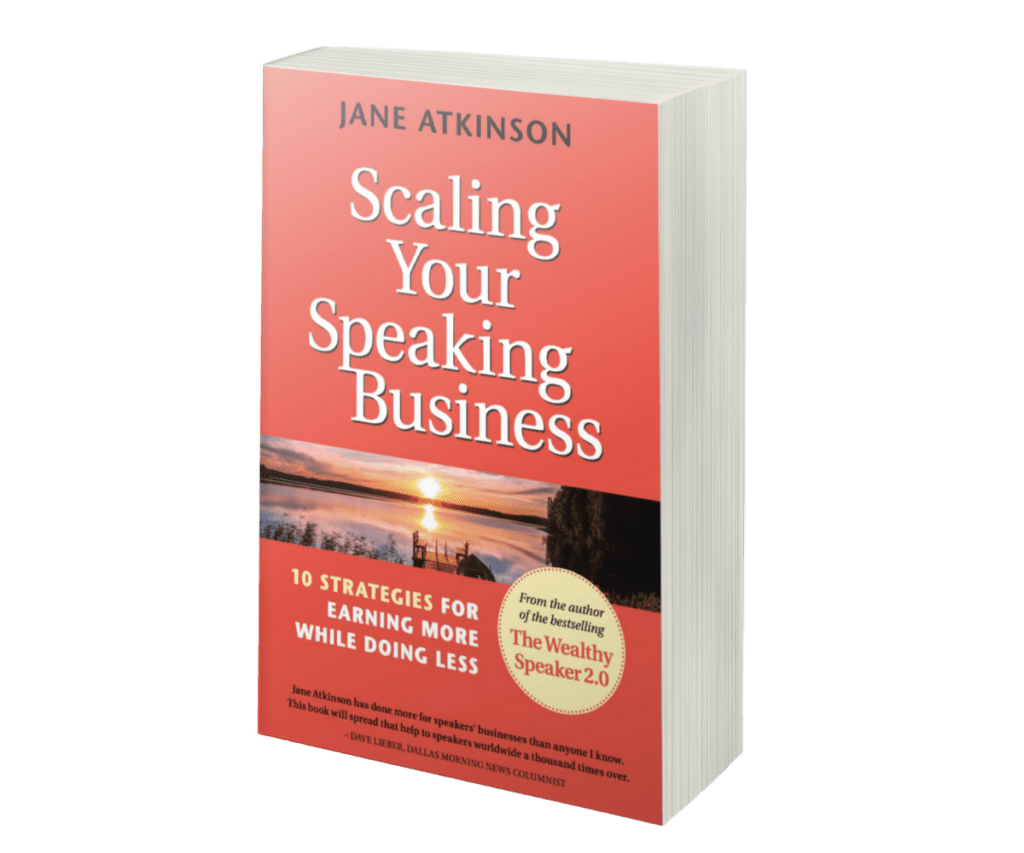 NOW AVAILABLE FOR PREORDER!
Scaling Your Speaking Business
10 Strategies for Earning More While Doing Less
Scaling Your Speaking Business: 10 Strategies for Earning More While Doing Less, is now on sale for pre-order! Due to release in early March, this book is what every speaker who is looking for a path to accelerated growth in their speaking business.
If your goal for your speaking business is to elevate your income, whether it be
from $100K to $250K, or from $250K to a million, you cannot afford to miss out
on the real-life advice, stories from Jane's clients and inner circle, and expert
strategies in this book.
"What changed for me working Jane?
Everything... we've been working together since the beginning and 3years later we are on our way to building a millon dollar business. She is the definitive Speaker Launcher"
RYAN ESTIS
Performance Expert
"Unfortunately, Jane Atkinson wasn't coaching speakers when I got started. I promise that if she had been, working with her would have shaved years off my learning curve."
RANDY G. PENNINGTON
Award-winning Author & Hall of Fame Speaker
"Since hiring Jane, my speaking business has transformed. After ten months of her coaching program, I have been hired by clients like FedEx, Mattel, Hyundai Capital, and so many others. Her books, coaching calls, and Accelerate Live coaching weekend have enabled me to follow my passion and turn my expertise into a fast-growing, profitable speaking business. Jane's program is the single best investment I have made in my business."
JACOB GREEN
Professional Speaker
"It's getting harder and harder to know which coach is right to choose. But Jane was bang on perfect for me. In this profession there are lots of "shiny baubles" and it's critical to pick what is right for you. Jane quickly established what I needed to be more successful. She helped me sift through the long list of ideas to market and grow my business and determine what was best for me. There was no b.s. and no "this is the only way to do it". I've seen my business become more focused and profitable as a result."
MARTIN PARNELL
Author, Marathon Quest
"I've been in the speaking business for 30 years and people come and go. Jane Atkinson 'gets it'. She is the best speaking career coach in the business. I'm not saying she's one of the best. I'm saying she's the best, period."
JOE CALLOWAY
Author of "Becoming a Category of One"
"Whenever speakers ask me how to get started in the business, I tell them "you can either do it yourself the slow, old-fashioned way, or you can hire Jane Atkinson and do it faster and with less expense".
VINCE POSCENTE
Author, The Age of Speed
"When I hired Jane, my business was just a few months old and I'll admit, it was a big investment. However, within 6 months I raised my fee twice, hired help and now continuously pinch myself that my dream of becoming a speaker came true so quickly, much in part to Jane's generous wisdom and guidance."
KINDRA HALL
CEO
"Thanks for all of your wisdom – your foundation provided the ability for me to do all of these transformational business initiatives."
DR. CHRISTINE GRANT
Leveraged Empowerment @OMOTempowered
"I read your book The Epic Keynote today and it is TOTALLY BRILLIANT! Yes I am shouting from my little stilettos! You have created such a valuable must read for every speaker – thank you for sharing your brilliance."
NEEN JAMES
Author of Be AH-Mazing™
"Jane is a dream coach. Within the first month of working together, she helped me focus my brand name and unique niche among the sea of leadership speakers. Her laser-focus on building a solid, marketable, sustainable business combined with an insider's knowledge of the speaking industry makes her one of my most trusted advisors."
JULIE HENRY
Finish Line Leadership
"This month we blew our goal out of the water and closed 6 figures worth of bookings. I can't thank you enough Jane for your advice and guidance to help make this happen."
Wayne Lee
Peak Performance Expert