The Speaker Launcher Success Store
Jane Atkinson is the author of The Wealthy Speaker 3.0: Your Recipe For Building The Speaking Business Of Your Dreams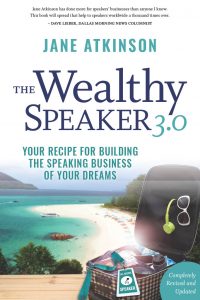 Your Recipe for Building the Speaking Business of Your Dreams
Ready, Aim, Launch … the Business of Your Dreams!
Jane Atkinson has always delivered – valuable experience, purposeful strategies, effective tools, and indispensable advice. The Wealthy Speaker 3.0 is no exception. 
What you loved about The Wealthy Speaker 2.0 is still here – the targeted coach's questions, helpful tips from the masters, and inspiring real-life flashpoint stories. But this thoroughly updated and completely revised edition brings you a new recipe:
Ready – will help you get crystal clear on what you're selling, your ideal audience, and your fees.

Aim – spotlights marketing that includes an epic presentation combined with an effective website.

Launch – is where you'll roll out to your target audience. This is the "show me the money" stage!

 
And throughout Jane goes deep on the speaker's mindset and lifestyle. It's truly game-changing!
The Wealthy Speaker 3.0 boasts a new streamlined look that enhances Jane's no-nonsense style. Short chapters offer improved readability for busy people and a more focused topic-by-topic approach. 
Plus a Bonus! A downloadable file contains all the coach's questions, worksheets, and other vital links and info.
Jane Atkinson is the ultimate speaker launcher!
NOTE: PDF Only, not in Kindle Format, but can be downloaded as original PDF on Kindle.
The Epic Keynote: Presentation Skills and Styles of Wealthy Speakers
The Epic Keynote is where craftsmanship meets style. Don't leave your presentation to chance, take the steps required to make it EPIC! The most impactful speakers have a high level of relevance for their audience, customize to make it meaningful and tell stories that make people laugh and cry. Do you have what it takes to deliver The Epic Keynote?
Are your stories crafted and vivid for the listener?
Is your style one that engages the audience from minute one?
Do you take people on a journey and inspire them to think about things in different ways?
Does your keynote result in more speeches do you get asked back again and again?


Jane Atkinson has put the wisdom of her speaking colleagues, The Wealthy Speakers, with her own to deliver a book that every person who gives speeches must read. Whether you are a professional speaker, or the head of a company, taking these tips and techniques onto the stage with you will ensure superior results.
Scaling Your Speaking Business
10 Strategies for Earning More While Doing Less
Scaling Your Speaking Business: 10 Strategies for Earning More While Doing Less, is the one book every speaker who is looking for a path to accelerated growth in their speaking business needs to read immediately!
Mapping out 10 key ideas that will have you earning more while doing less, this clearly laid out strategy will help you:
Check your mindset and map out long-term goals, without any limits
Put systems and processes in place for faster, yet manageable, growth
Create clarity around your team positions and new hires
Establish relationships with resellers, sponsors, and middlemen
Create passive and non-passive revenue streams with the types of offerings
you love
Craft the perfect business that sees you running it, not it running you!
If your goal for your speaking business is to elevate your income, whether it be from $100K to $250K, or from $250K to a million, you cannot afford to miss out on the real-life advice, stories from Jane's clients and inner circle, and expert strategies in this book.

BONUSES GALORE! Every book comes with a link to our exclusive bonus pages, worksheets, and links that will help you in your journey to scaling your business!  The value in these pages alone is worth the price of the book!
The Wealthy Speaker Daily Success Planner
Use this journal every day, to advance both your life and your career towards the lifestyle and wealth of your dreams. Each planner allows for 6 months worth of daily planning.
When you set out your intention for the day, tap in to what makes you feel confident, write out your gratitude and document your mantra and goals, you'll be heading in the direction of success. Journaling every day is the path to creating momentum. But it's not only that, you'll also map out your marketing initiatives and key clients to connect with.
Don't wait and get your copies of this one-of-a-kind planner.
Journal Key Features:
Set out your Daily, Weekly and Monthly Goals
Map out your 5-year Vision
Create an action plan using 30-60-90 planner
Inspirational quotes and reminders design for "Wealthy Speaker Mindset"
Log your daily wins – the best way to build momentum
Use Wealthy Speaker techniques to ensure that your goals are reached with less time and distraction
Monitor to spend time doing high payoff activities
Align your goals with your top values
Set your intention every day (powerful)
Map out your marketing initiatives each week
Identify your confidence builders and capitalize on them
Keep your top clients and prospects top of mind
Stay focused on your strategy whether in Ready, Aim, or Fire mode
Keep your gratitude front and center (a technique used by many wealthy people)
Stay in balance with your daily mind/body and spirit habits
Start every day in a positive space for accelerated productivity