One question that has been coming up in various circles in our Wealthy Speaker Community is if now is the right time to raise your speaking fees. Since I love talking about money, I love talking about fees.  So let's look at four things you need to consider before raising your speaking fees.
Thinking about raising your #speaking fees? Here are 4 things to consider before you do it!
4 Things to Consider Before Raising Your Speaking Fees
With Covid moving into the rearview mirror, there is a pent-up demand for speakers and in-person events. That makes the future speakers look bright. But that alone isn't a reason to raise your fees.  
Before you think about raising your speaking fees, I'd recommend that you take stock of these four elements to see if you are ready and the time is right.
IS YOUR CALENDAR FULL?
The biggest reason to raise your fees is supply and demand.  Is your calendar as full as you want it to be?  If it is, and you aren't getting a lot of pushback on your fees, now may be exactly the right time to raise your fees.  
Being uber-busy is fine, but keeping up a super hectic pace may not be sustainable.  Don't let that COVID hustle go on forever. Instead, set a goal for the year for the number of engagements that keep you in a balanced lifestyle. That is the way to go.  
DO YOU HAVE A NEW ACHIEVEMENT?
When you publish a new book or gain a new credential, consider it a great time to raise your fees.  My client Annie Meehan just got her CSP, so a fee review is in the works for her.
I recently published my 4th industry book and decided to raise my private coaching fees despite being in the middle of COVID. Why? Like the Loreal commercial says, "because I'm worth it," and because I didn't want "fear" of COVID or anything else to drive my decision.  
Thinking about raising my fees forced me to remind myself of the value I bring to the table. While still in decision mode, I made a list of all of the speakers I had helped add zeros to their income. The list was long! Raising my fees shifted my mindset immediately, and I ended up earning more in the last 30 days than I did in 90 days prior.
If you are launching a new book or have added a designation to your title, and you've been thinking about raising your fees, now might be the right time.
ARE YOU SHARING THE STAGE WITH SPEAKERS WHO CHARGE MORE?
You've walked off the stage, and the next speaker is waiting. The audience loved you, and they love this speaker equally. But here's the rub: that speaker charges twice your fee.
When you find yourself consistently sharing the stage with higher-priced speakers, it might be time to raise your fee.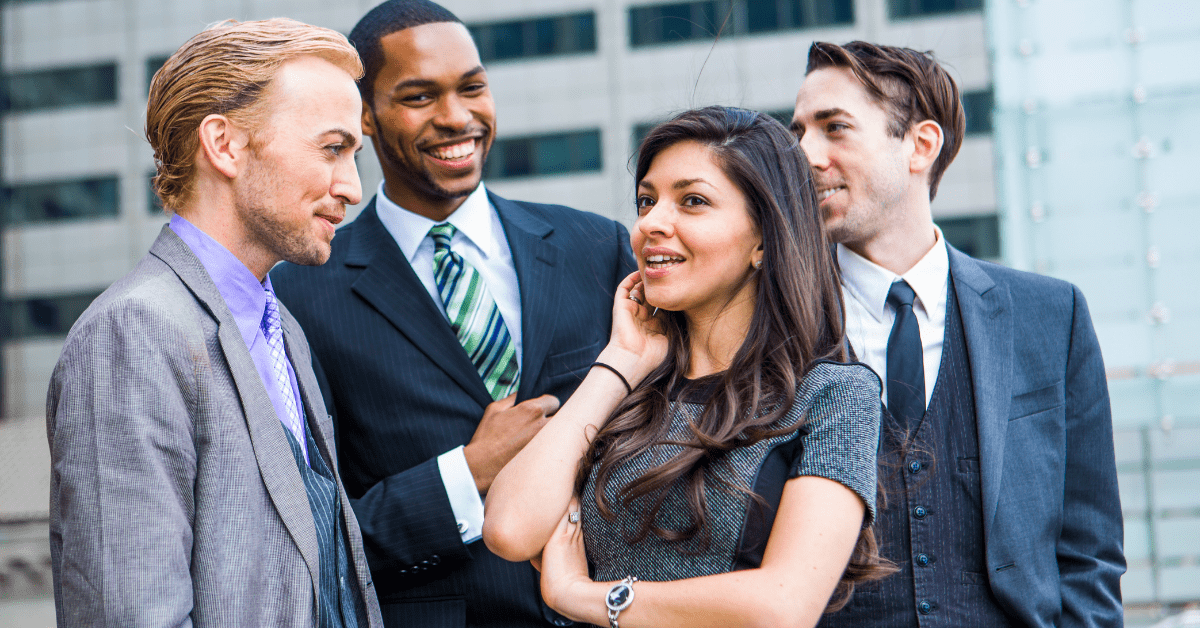 Having studied mindset for the past two years, I can tell you with confidence that the only difference between you and that other speaker is mindset. If you need to do some work on mindset, start listening daily to our Wealthy Speaker Meditation. That will get you headed in the right direction.
IS PERCEPTION GETTING IN THE WAY OF YOUR SUCCESS? 
There's an old quote that 'Perception is Reality.'
Let's say a client is booking a speaker for a fall event. They have a budget of $15,000, but you don't know their budget. You quote your fee, which is $7,500. Their shortlist contains several other speakers who quote $15K or higher. What are they thinking? "Hmmm, I wonder if this speaker is any good?"
That's when perception might get in the way of your success. Pricing yourself too low can be detrimental to your business, and you may not compete well for higher-budget events.
The leader of The Wealthy Speaker School's emerging speakers program, Jen McDonough, was a part of my inspiration to raise my fee. She rolled through COVID with confidence and never once seemed concerned about money.  
A few years back, Jen's family had paid off over $200K in medical expenses, and that gave her perspective. I watched while she invested in technology to go virtual. And when she said she was raising her fees while we were still in the pandemic, I thought, "right on, you go!" 
And I got inspired.
Raising your fees can be scary and may bring worry and anxiety with it… but ony if you let it. 
Work on your mindset first. Get super clear on the value that you offer. When I did that work, something clicked in my brain that has made me feel unstoppable. 
I hope you'll assess whether it's time for you to raise your fees. If you go for it, do it with confidence and boldness! And if you need help making some of the bigger decisions in your business, check out our Focus 40 coaching session. It's a one-on-one private coaching session and a terrific way to sort through some of your bigger hurdles and dilemmas.
PS:  While these 4 things are great to consider when it comes to raising your fees, the assumption is that you are providing the level of value you are charging for. Job one is to make sure your content is king!