At our recent event in Dallas, the talented Michael Hoffman shared several ideas that speakers can use to go deeper with their corporate clients.
Let's examine a few ideas to becoming the "go to" content provider for your clients. Imagine this scenario: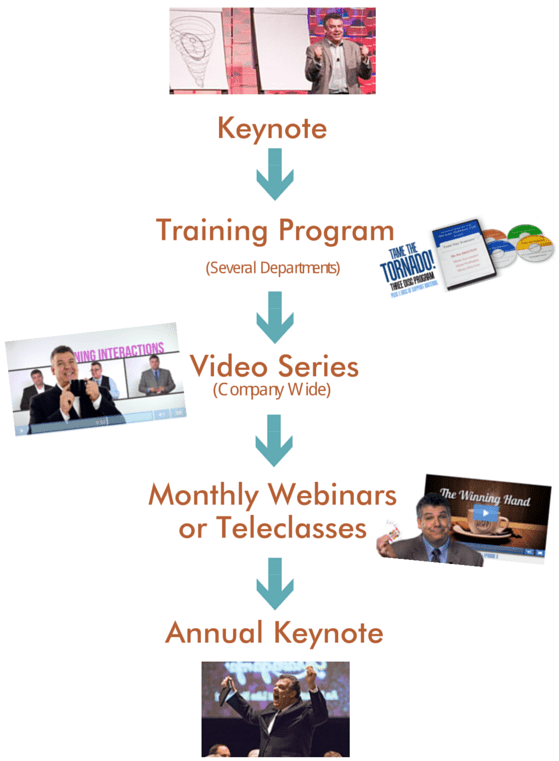 Do you see how having a well thought out offering can allow you to go deeper with a client? I am not suggesting you train on all topics, but stick with your area of expertise and mold it around their needs. In Michael's case, all roads lead back to communication.
So how do you make this happen?  Here are a few tips:
1. Have your "2nd speech" ready in the wings while giving the first. When you can go deeper into your topic, you are able to ask your client "how long would you like this message to last?" Of course, they are going to want deeper change, and that allows you to sell the next step.
2.  Go above and beyond during the presentation. It's the added "I didn't see that coming" value that get's you engraved in their hearts. Call or visit your audience ahead of time to learn their language, the names of their superstars and leaders and use them in your presentation. This helps them connect your ideas to their world much easier. Plus you'll sound like an insider! Send a recap video afterwards and never forget a well thought out thank you note.
Michael emphasizes, "Anything you can do to add a little extra value outside of your 'speech' says I'm much more than a one-trick pony and can have impact and influence on your culture, not just your event." 

[Tweet "The added "I didn't see that coming" value will engrave you in #clients hearts! #SpeakingTip"]
3. Build the relationships "up the chain". By interviewing company higher-ups, you are asking questions about the vision for the company and, from the platform, you can do an excellent job helping them achieve that vision. Once finished, schedule a follow-up call to go over "next steps" towards achieving that same vision.
4.  Be fun and easy to work with. When your clients enjoy working with you, they will bend over backwards to champion you into various projects. Stay in touch with them and build the relationship in between engagements. Sometimes your Champion leaves the company, and your goal is to be broad and deep with your relationships so that you do not lose the business.
How can you go deeper with your clients? Share your thoughts below in the comments!
See you soon Wealthy Speakers!
P.S. The next Accelerate 16 Week program will be starting this month! If you're ready to catapult your Speaking Business click HERE for more details!
---