The Promise Statement. Those of you in my community know that I talk about the importance of a perfect promise statement often. It is, after all, essential for effectively marketing your speaking business and getting people to understand exactly who you are and what you'll deliver.
A promise statement is not a new marketing idea or one that I invented. In fact, the idea of the promise statement came from copywriting expert Bob Bly way back when internet marketing first began. He typically referred to it as the promise or 'big idea,' and it was typically placed in the headline of the copy to pull readers in.
When I talk about a promise statement, it's a bit different. For professional speakers, the promise statement clearly defines exactly what you'll deliver, and it is placed front and center on the home page of your website, and in some cases, every page of your site.
For example, my promise statement is "Catapult your Speaking Business." This is what I deliver to those who I work with. My promise statement is built right into my logo, so it's on every page of my site.
Two Steps to Creating the Perfect Promise Statement
There are two steps that must be completed before you can figure out what your promise statement might be.
#1: PICK A LANE.
Before you can develop your promise statement, you must have picked your lane. The topic that you want to be known for five years from now needs to be clear. If it's not, coming up with a promise statement will be very difficult… even impossible.
#2: CHOOSE YOUR PROBLEM.
Once you have your lane, you need to choose what problem you are helping to solve. Many of my clients will say "but Jane, my content solves all of the problems of the world, including world peace!" Okay, I'm exaggerating a bit – but it's to make a point. I understand that there may be many applications for your knowledge but narrowing it down to one or two solutions is helpful for creating your promise statement.
Here's an example: You have a communications presentation that is helpful for teams. Perhaps your outcome is to "bring the team together and to get more done." That's a great starting point.  We might mold and massage that language to come out at the other end with "cohesive teams getting great results" or something like that.
You can have one, two or three outcomes in your promise, but going beyond three will make your promise long and perhaps too clunky.
Pulling Together the Lingo for Your Promise Statement
Once you have identified the problem you solve and have put your promise into some language, the next step is to make sure you are using the best language, so it translates effectively to your target audience.
Let's go back to our promise of "cohesive teams getting great results" and see if we can't swap out words to make it even better. The word "great" is well, not great. It's somewhat bland, so perhaps you might swap it out. This is where your thesaurus comes in handy.
"cohesive teams getting stellar results."
"cohesive teams getting tremendous results."
"cohesive teams getting big results."
You might tend to lean into a more complex word, but sometimes your promise statement might need something simple. You'll want to test your language on clients and prospective clients to see what they lean into. Perhaps the simplest one is the one they like because it's so easy to understand.
Let's look at a promise statement that is really working. Kindra Hall's promise statement is:
Capture Attention
Close Sales
Increase Influence
through the art of strategic storytelling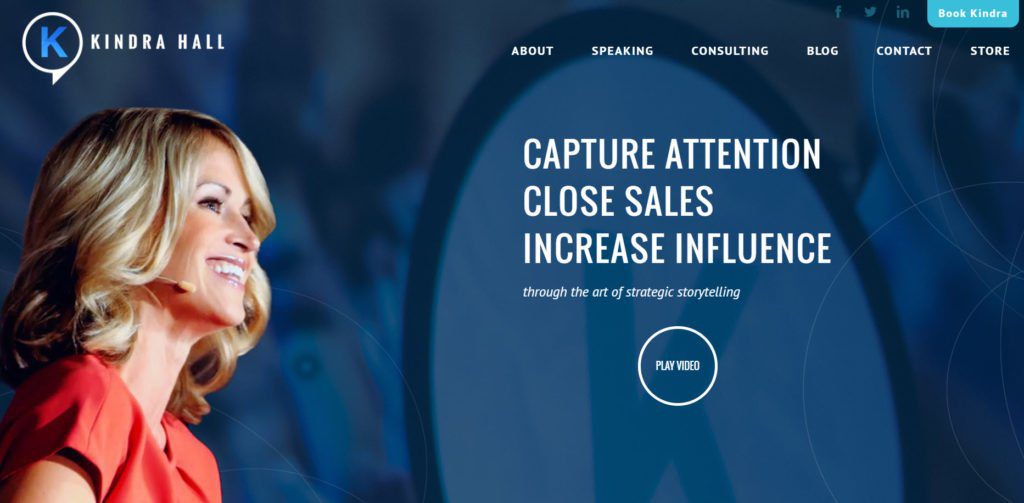 With this statement, not only is Kindra showing prospects 'what' she'll deliver, but she's also sharing exactly "how" she is getting there as well. This isn't always necessary – you can leave it at the 'what.' In Kindra's case, she's actually selling the methodology behind her outcomes – storytelling, so it's a bigger part of the pitch. Therefore, the 'how' matters.
If you struggle with if you need to add the 'how,' simply ask yourself "is how we get there" important? If it is, then add it.
Crafting a perfect promise statement isn't always that easy. It is one area that I see many people struggle with.
I recently consulted with a speaker who talks about "mindfulness." He had that as the main part of his promise, but it really wasn't working. What he really needed to focus on were the "outcomes" of mindfulness. Things like lowering stress and shoring up resilience are more important to the promise. While he might mention mindfulness fairly early on because it's such an important piece of the puzzle, it may be second rather than first in the marketing.
The Final Step in Crafting the Perfect Promise Statement: Test It
The final step to developing your promise statement is to test it with your clients and prospects.  If they have three statements to choose from and consistently lean into one, you'll have your answer.
If you want, you can get more technical and do an A/B split test on your website. The bottom line on this is to keep an eye on your website analytics and compare it with bookings at the end of a time frame. When your language finally falls into place, you'll see some positive results on your calendar.
Getting to a great promise statement is a process. It is a process that is worthwhile.
So, let me ask you. How is your promise statement? If you have a promise that's working and you'd like to share, please head over to our Facebook Page and share so that we can all learn what's working.
If you are struggling with crafting the perfect promise statement, start by downloading our "Creating the Perfect Promise Statement" worksheet and then schedule a Focus 40 session with me, and we can work on it together!
And I'm sure it doesn't need to be said, but please don't take anybody else's promise. Your promise needs to be unique to you, so find your own words.