Being a professional speaker and running a speaking business can be a lonely adventure. You may feel at times as if you are all alone trying to figure out what steps to take next and how to move forward without making significant mistakes. Here's the thing – if you want to find success as a professional speaker, you are going to have to leave the island.
I know that many of you are currently working on your speaking and business strategy for 2019 and more than likely, you're trying to map it by yourself.  This process can feel like being out on an island. Well, one of my goals is to get you off of that island and into mainland amongst a group of other like-minded people.
My clients often say that one of the great gifts they have received by working with me and attending my events is the uber cool people that they have met. I know what they are talking about – my world is filled with rock stars. I'm incredibly fortunate to have both clients and experts that I can call on that are brimming with the knowledge that most speakers need to find success. This is incredibly valuable to my wealthy speaker communities.
Next month, I have assembled a roster of superstars for our Accelerate LIVE 2019 event that you won't want to miss. The event takes place in Cape Coral, Florida from February 22 to 24th and is designed as a deep dive into topics that will help you accelerate your speaking business.
One of those rockstars on our roster is story-telling expert Kelly Swanson. If you missed my podcast with Kelly Swanson last week (it is one of my highest rated podcasts ever), you'd want to check it out. Kelly is a phenom at strategic storytelling and discovering where the art of story meets the business of persuasion. Her wisdom on the subject can be used by all to find success as a professional speaker.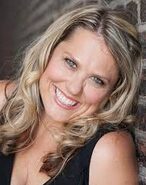 We also have Neen James joining us on the Accelerate LIVE 2019 roster. If you don't know or haven't heard of Neen, you are going to be blown away by her Aussie energy and her incredible content. She'll be sharing how you can turn your ideas into contextual models, and thus profits. She'll also be giving us insights on the systems that keep her calendar full and her business running like a well-oiled machine with event attendees.
To round things out, we also have Phil Gerbyshak on our roster for Accelerate LIVE 2019. Phil is going to help us take the overwhelm out of what we "should do" in social media and will help us determine where we should be spending our time and money on social to reap the greatest ROI.
And, to take it completely over the top, we also have stylist Anne Morrissey on site to help you rock the stage with confidence!
If you want to take advantage of spending a few days in a room with these experts, and myself, so you can accelerate your business in 2019, I encourage you to come in off the island and join us. It's a remarkable opportunity to map out your strategy with a fun group of like-minded people who can help you:
Map out your 2019 business strategies and decide where you want to focus
Elevate your stories and humor and craft your presentation with intention
Turn how your ideas can all come together in a model that your clients will love
Develop a social media program that works for booking more business
But that's not all! We've decided to EXTEND EARLY BIRD PRICING BY ONE WEEK TO JANUARY 11th. That's an additional savings of $200 off the regular event registration price!
[optin-monster-shortcode id="cfmj0x8ygxqxbbslrm96″]
If one of your goals for 2019 is to find success as a professional speaker and accelerate your speaking business forward, then I sincerely hope you consider coming in off your island to join us on OUR ISLAND – Cape Coral, Florida. It could be the best investment you make for yourself and your business in 2019.
If you are still on the fence, join me Friday at noon ET for our Setting Up for Success Webinar. We'll not only be discussing a number of strategies you can use immediately in your speaking business but will also be discussing the Florida program and its benefits at the end of the webinar. Click HERE or on the image below to register!
I can't wait to kick off the year with all of you wealthy speakers!  See you soon.