Last month at the Wealthy Speaker School we talked about how to sell and deliver virtual presentations. Back when the pandemic started, doing virtual "well" was all that was required.  But as we go further down the rabbit hole, and virtual meetings get more and more sophisticated, speakers are going to need to raise the bar with virtual speaking and presentations.
So, what do I mean by that?
We've all heard that virtual isn't going away. Having interviewed leaders of Meeting Professionals International (MPI) and National Speakers Association (NSA), I believe this is true. 
We think that "hybrid" will be the way of the future. The only thing that may become a barrier to seeing most meetings move to hybrid is cost. It's not cheap to stream a live event. The hotels charge a fortune for the type of bandwidth required. Perhaps this will change in order to accommodate more hybrid meetings… I don't know.
Raising the Virtual Presentation Bar with Better Engagement 
Setting up your virtual studio, no matter how basic or how complex, is just the beginning of creating a great virtual presentation. What we need to focus on next is how to engage the audience through that teeny tiny camera.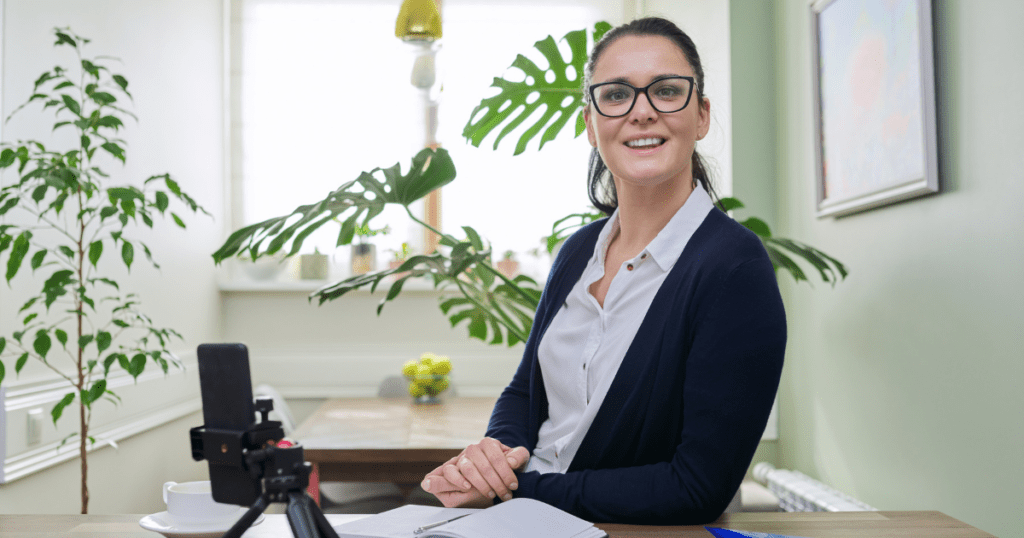 To find success with virtual, you need to rethink your content so you can deliver it in ways that are more engaging for a virtual audience. 
So think about how you might change things up. How can you connect with the audience in all of the traditional virtual ways (through the chatbox) but also in new ways? Maybe you supply them with some ways to engage outside of the chatbox? Colored cards, post-it notes, hand signals. I'm seeing more and more creative ways to keep the audience on the edge of their seats.
Some of you keynoters may think that because the organizer is running the chatbox that you can't engage that way. But you can enlist the emcee or host of the chatbox to communicate names and comments to you as requested so that the audience knows you are listening.  Asking a question right out of the shoot will teach them what to expect and it allows you to take control of the chatbox.
If you haven't seen it yet, check out this virtual demo by Chad Littlefield of We & Me to show you some interesting ways to connect with your audiences.
We also may be called upon for roles that we haven't done in the past.  Emceeing or hosting an event isn't something to take lightly. Make sure that you know what you are doing.
Thom Singer has created a terrific business model from being an amazing Emcee. He understands how a meeting needs to flow and all of the nuances that go with that. And he'll tell you, it's not something everybody can do. Be aware of where you shine brightly, and try to stick with that.
It's still the wild west out there in the world of speaking, but if you can take your virtual work up a level, you'll be positioned well to take advantage of the opportunities on the horizon.