As we approach the National Speakers Association's annual convention this July in Orlando, Florida you may be wondering if joining the association is right for you. While I can only speak to my personal experience and the opinions that have been shared with me by others, ultimately it comes down to each individual and what their expectations and involvement are. I do believe there is power in the National Speakers Association for professional speakers, and today I will share why.
Over 25 years ago, I went to my first NSA event and joined the Canadian Association of Professional Speakers (CAPS), Toronto Chapter. At the time, I was working as an agent for my first speaker. I sat at the feet of legends like Thom Winninger, Glenna Salsbury and real estate expert Barb Schwartz, from whom I learned best practices of the industry.
From Thom Winninger, I learned the power of asking for the business from the platform. We now call that our "help me speech."
---
---
From Barb Schwartz, a Washington Realtor turned Home Stager (before home staging was cool), I learned that "nobody ever said bigger was better" regarding the size of your business. She recognized that being responsible for a dozen staff members (and thus their families) was quite a burden and I always kept that in mind when forming my business teams.
---
---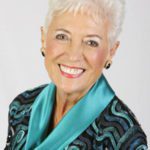 From Glenna Salsbury, I learned that "word of mouth" and delivering a great speech are your best form of marketing, thus creating the line "there's no better form of marketing than a great speech." Not only did Glenna deliver amazing content, but she also did so with incredible grace and elegance.
---
---
The past three decades at NSA have been rich with learning and relationships. I would not trade it for anything. Over the years my relationships have grown and strengthened, and I feel that every time I have gone through a challenge, someone at NSA has had my back.
While the NSA has changed and evolved over the years, I am still astonished that people gather in this way to so openly share all of their secret business weapons. I could not be more grateful to be a part of this community.
If you are thinking about attending the NSA Convention in July, please look me up. I will be delivering a "Wealthy Speaker Positioning Bootcamp" presentation on Monday, July 10th at 3 pm. Please stop by and say 'Hello'!
For my coaching clients and group program participants, I will be hosting a private VIP Cocktail Party during the convention, so stay tuned for an email with details about that.
If you are an NSA member, I would love for you to share your thoughts and experience in the comments below.
Will I see you soon Wealthy Speakers?