Being famous will get you the booking the first time, but to get asked back, you've got to surprise them. Decision makers who are looking to put bums in seats by hiring someone famous, love it when you go out of your way to:
Know who the group is and what they do
Know how your ideas can be applied (i.e., what their challenges are)
Genuinely care about the audience (don't blow in and out with an entourage that doesn't let anyone near you).
I have several clients who are former NBA and NFL players. I encourage them to toss out all of the trite "you can do it" material and be more creative with their language and their success formula. I also encourage them to be generous with their time on site.
Here is a great example: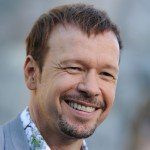 Donnie Wahlberg was booked into a corporate event by Kris Young of BX Worldwide. He was more of a "celeb appearance" but was also asked to speak for 15 minutes. They chose him because it was a Boston business event, and he is a hometown boy with two restaurants in Boston.
Not only had Donnie done his homework about the event and why people were there but he took it to a place that no one ever expected. He told story after story – all of them endearing – and his delivery was in the moment and completely authentic. He then stuck around and took hundreds of photos, met people (and called them by name), on and on and on.  Well done Donnie.
A speaker who has been around the block might also need to work hard to remain relevant. Sure, they get booked because they have the name recognition, but if you are using the same material you used in the 80's and 90's, I fear you are in trouble.
[Tweet "A #speaker who has been around the block might also need to work hard to remain relevant."]
Joe Calloway has been speaking for over 30 years, and he works tremendously hard to remain relevant for his audiences. His stories are not 20 years old; they are ripped from the headlines on the week or the day of the presentation.
If you are wealthy because you own or have sold, a company for millions, being wealthy may not be enough to impress today's audiences. Showing people specific strategies that they can apply is far more helpful then spouting a few platitudes about attitude. Ask yourself what you have done (specifically) and wrap some interesting language around it.
No matter why you have been thrust into the speaking spotlight, I believe we all have the duty to give our audiences something compelling, relevant and applicable. You might get booked the first time, but meeting professionals talk, and you likely won't be asked back again and again.
See you soon Wealthy Speakers!
---