Well, the survey's are in and here's the overall result: People are not happy with their fees!
Only 18% of those surveyed reported getting their full fee most of the time. Nearly 70% said "I think I can do better" when it comes to getting their full fee and only 10% said they were happy with their fees.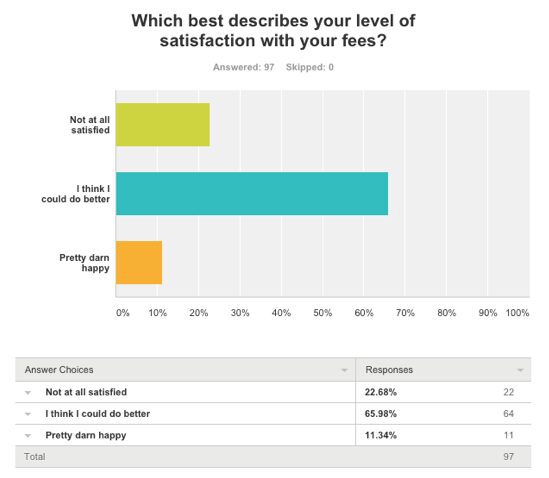 Only 10% are satisfied. What does that tell us?
We've got some work to do to help our industry raise it's game in the fee department. I can understand when the economy is shaky people get nervous and reduce their fees. But if Dr. Phil is right and you teach people how to treat you – allowing yourself to get beat up on fees is not the best strategy.
[Tweet "Follow @DrPhil advice & teach people how to treat you so you stop getting beat up on #speaker fees!"]
There are several reasons why speakers might not be getting their full fee.
1. Lack of clarity in your products and services. This might stem from trying to be all things to all people.  Or perhaps not having "picked a lane" in your topic.  You might also be priced too low – that can sometimes skew the perception of your value.
2. Lack of Confidence in your expertise. Knowing that you can solve a client's problem is the seed that grows your confidence.  Your fertilizer is client feedback, audience feedback, writing books and expanding your knowledge base, among other things.  The more you are willing to work on being "the" expert in your field, the easier it will be to command full fee every time.
3. Lack of Consistency. I have had many new clients whose fees are all over the place. (Believe me, that gets fixed quickly). Write your fees down on a piece of paper and post it on your bulletin board. A lack of consistency could come back and bite you in the bum if you aren't careful.
Fees aren't the only reason most of us are in business – but it sure is nice to feel as though what you do is worthwhile and appreciated. When you position yourself as the expert (here's the kicker) in the RIGHT MARKET, there is no reason why, in today's economy, you need to negotiate your fee more than 10% of the time.
See you soon Wealthy Speakers!