Back in the day when I worked as an agent representing speakers, I realized early on that success was a numbers game.
I was a green 25 year old when my first speaker, Betska K-Burr, took a chance and hired me.  I was sharp and had some raw sales skills but no formal training.  She spent a week or two with me giving me the lay of the land and I was getting comfortable.  
But then that fateful day came…..  
Betska had secured a big training contract for General Motors and she was going to do 4 weeks with them and then take 2 weeks vacation.  I was on my own!  
It was sink or swim.
Betska had been collecting business cards at all of her speaking engagements, which was great. She handed me that stack of cards and said "I'll see you 

in 6 weeks

!"
I wasn't entirely sure what I was doing, but phone call after phone call, I started to get the hang of it.  I was fearless because I didn't know what I didn't know!  As I got talking to people that had seen Betska speak, I started to get a better feel for the outcomes of her work.  And the better I could articulate that, the better my results were.
I don't recall how many engagements I booked over those 6 weeks, but because I was consistently on the phone planting seeds and following up diligently over time we had success.  In fact, every year, for 3 years we doubled Betska's revenues.
Now you might say, "but I get all of my leads from referrals".  Yes, and the more you speak, the more you book; that's a numbers game.  When you are getting 2

-3

spin-offs from each speech, that makes the seed planting that much easier.
Today our strategy would be to reach out by multiple channels including the phone.  Some say the cold call is dead, but I'm quite sure, if we did some digging, we'd find evidence that this statement is not true.  It's clear the cold call is not as effective as it once was, but I think that we simply need to adjust our strategy.
Back then I made 40 phone calls per day whereas now, we might aim to make 40 "connections" per day.  That might include social media and email as well as cold calls.  And we also want to track live networking because for some of you that is your superpower (to borrow a term from my client Ed Tate).
We'll talk more about superpowers in the next blog post, but in the meantime, I want to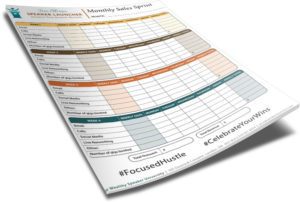 offer you a free tracking system for your sales.  It's called the 30 Day Sales Sprint. I hope you will download it, print it, and use it to undergo your own 30-day challenge.  Step one is printing it and getting the tool in front of you but guess what step 2 is?
Commitment
By committing to 30 days of consistent seed planting, I believe that you are going to see results.
Are you in?
There is a lot of uncertainty in this world, but there is one thing that I am sure of and that is that it takes action to get results.  If you have the desire to build your business, I hope you will commit to using the Sales Sprint to track your business activity for 30 days.  And I'd like to hear about the results, will you share?
You may have enough strategies in place to make your phone ring, but if you don't I hope you'll use this tool to take action.
See you soon Wealthy Speakers!