Time and time again in my webinars and mastermind groups, a common question arises: "How much should I get paid to speak," or "How do I know how to set my speaking fees?"
Most often, my answer is "it depends." It depends on the person, the situation, the expertise and the talent of the speaker.
This question got our team thinking that perhaps we might map it out for you in a way that will both inspire and inform you.
We've created a great infographic titled, "How Much Should I Get Paid to Speak?" You can use this infographic as a guide to see where you are now and the fees you should be charging. Additionally, you can see where you'd like to be in the future with your speaking business and what those fees look like.
I think you'll find that there's a ton of great intel here and you may want to save or print this document to return to again and again. Check it out: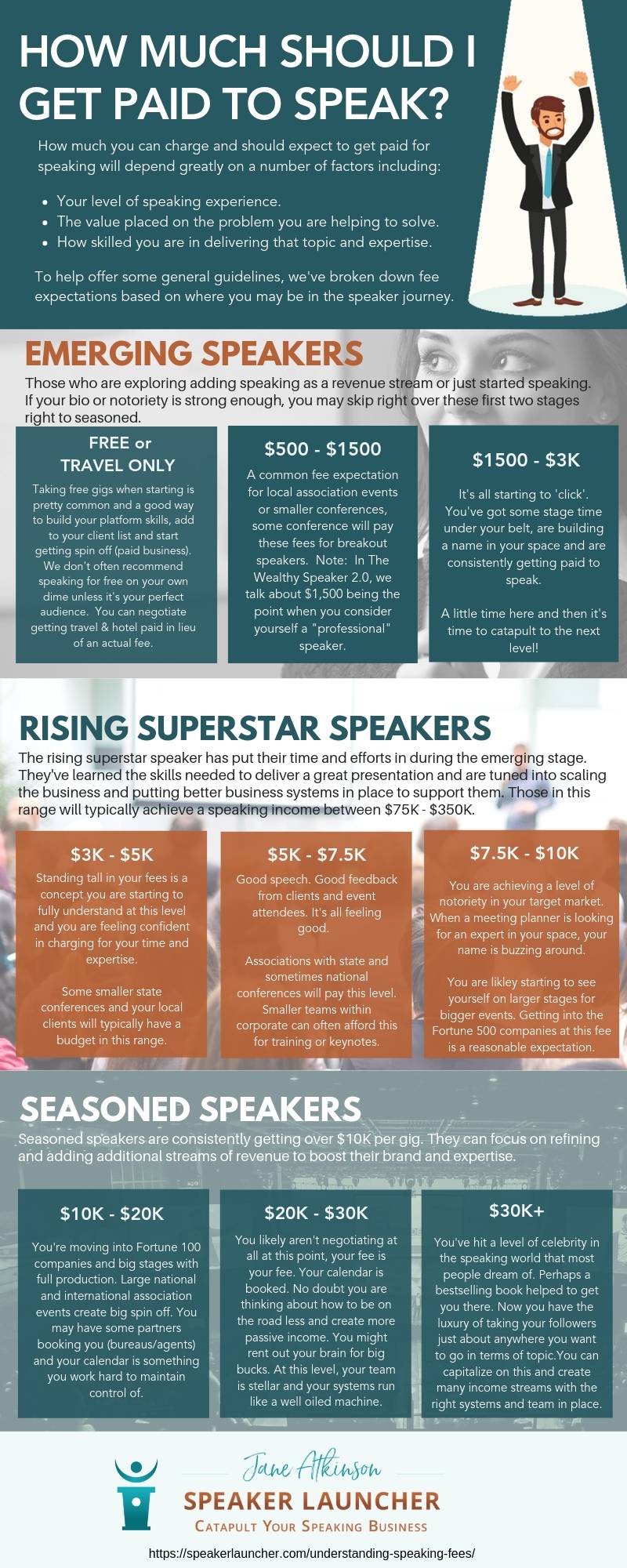 (click HERE to download the graphic in 11×17 size! Take it to Staples and get it printed and post in your office as inspiration to keep increasing your fees!)
So, where do you fit in with your current fees?
If you are an Emerging Speaker whose fees range from Free (or compensation for travel) to $3K and you want to move those fees up more swiftly, check out The Wealthy Speaker School. This course and community is designed to help you:
Shave time and money off your road to a successful speaking business.

Get your website and marketing materials aligned so you can get booked at higher fees.

Understand the right way to spend your time and money so you get results and boost your revenue.
This program has been instrumental in helping many speakers perfect their marketing and skills so they can gain the confidence to raise their fees and move to the next level of speaking.
For those of you who relate to the Rising Superstar Speaker and are earning $3K to $10K per speech, you've most likely put in a lot of hard work to get where you are. Doesn't it feel good – you have a legitimate speaking business!
If you fall into this group and want to do more to keep raising your fees, you may want to consider looking at our School's  Inner Circle Mastermind program. This program provides the tools and the accountability you need to blow the ceiling off your speaking business.
Maybe that's higher fees. Maybe it's more gigs. Or maybe it's working less without compromising your existing income. Regardless of what it means to you, this program can help you position your speaking business to fit your dreams and goals. 
And for the Seasoned Speakers who are consistently getting between $10K and $30K+ per gig, it may be time to think about developing alternate sources of income – training, consulting, etc. – that allow you to come off the road a bit but still increase your income. I can help you strategically think about the best next steps in my one-on-one coaching programs.
I hope this infographic helps to clarify what speaking fees you should be getting depending on your stage of business and level of speaking.
My goal, as always, is to help you build the speaking business of your dreams and knowing what your speaking fees should be is a big first step. Check out all of our resources and schedule a Focus 40 with Jane as a first step.
See you soon, Wealthy Speakers!