As a professional speaker, you likely understand the importance of storytelling on stage. The right story, told at the right time, can captivate your audience, make them lean in on their chair, and communicate your message in a powerful way that they will remember long after the event.
Ironically though, many speakers don't put storytelling to use in their sales strategy. But believe me when I say it… this is one of those factors that can separate those who are 'just getting by' in their speaking career from those who are commanding the speaking industry.
My client Kindra Hall has long stressed the importance of using storytelling as a sales tool, and she is not alone. "Story is your ultimate currency," says Michael Margolis, CEO of the storytelling training company Get Storied. "This is why people buy your message, or buy your product, or even hire you to do a job." 
Today I urge you to reflect on your own story and how you may use it as a tool in your next sales conversation. I will start with some powerful reasons why you should be using storytelling as a sales tool. Then I will get you started by sharing my own story along with a few tips for telling yours.
The Benefits of Using Storytelling as a Sales Tool
Using storytelling as a sales tool WORKS! Here is why:
1. Stories are powerful and memorable.
If your current sales pitches are based on numbers and data, you're not doing a good enough job of reaching your potential client. This infographic from Hubspot illustrates how storytelling triggers more parts of the brain (7!) compared to data-based presentations. 
2. Storytelling can build connections and trust.
I'm talking on the chemical level. This article from Harvard Business Review explains research where character stories were shown to cause the synthesis of oxytocin in the brain, a chemical that signals "it's safe to approach others." 
3. Storytelling triggers emotion.
Going back to point #1, many of the parts of the brain that fire up when we hear a story are related to emotion. And it is EMOTION that triggers a purchase decision, not logic. Your story can make your potential clients feel like they know you and can inspire them to take action by hiring you for the gig.
Telling Your Story – My Example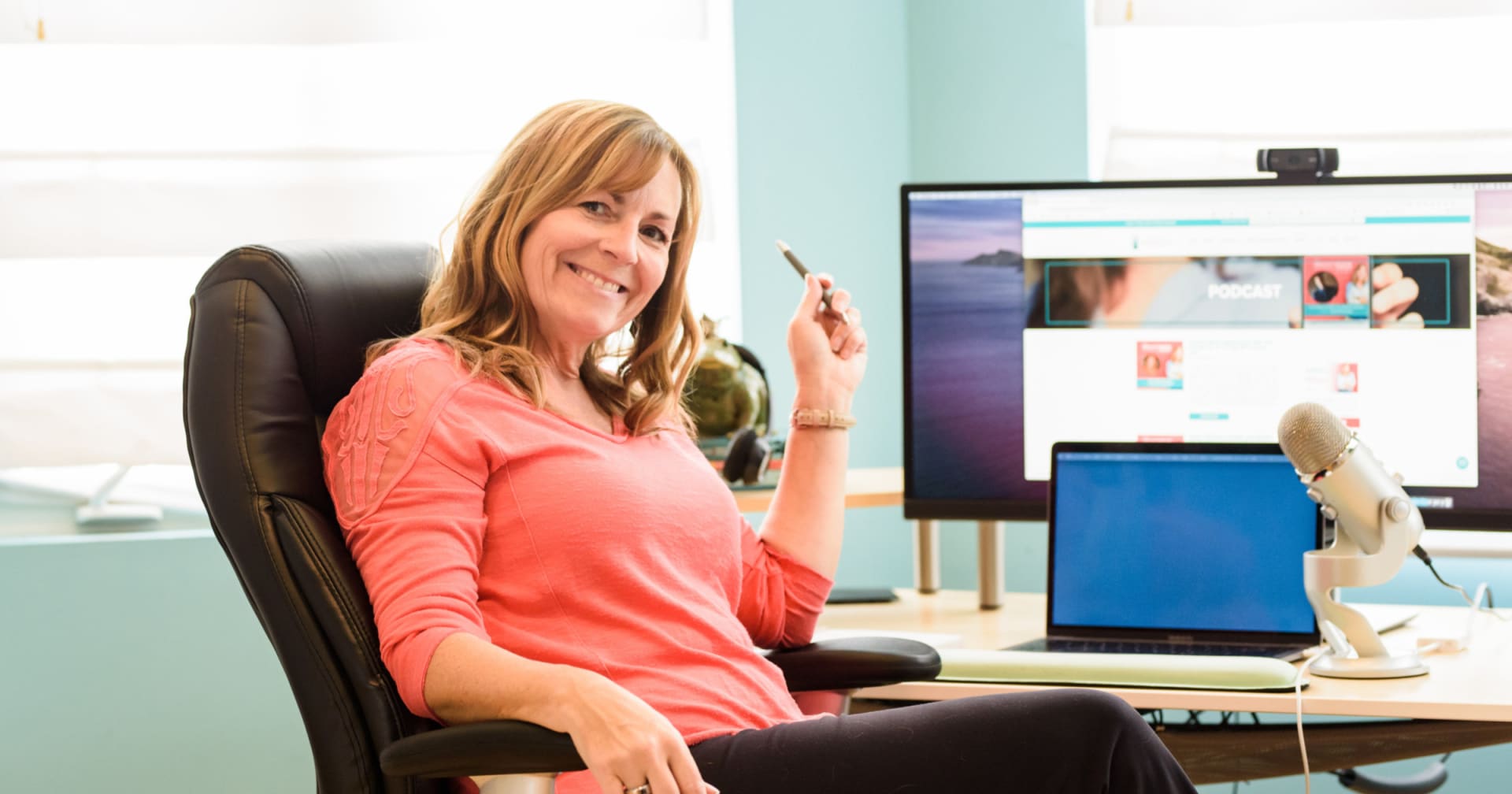 Traveling the world and having fun. Those were my main career aspirations after college, and this carefree existence led me to many seemingly random jobs.
I worked on cruise ships, at ski resorts, and I was once a deckhand on a fishing trawler off The Great Barrier Reef.  Later, while holding down corporate temp positions, I moonlighted as a bartender and waitress. Climbing the corporate ladder? Definitely not for me, although my jobs did allow me to make connections with those in the business world.   
At 25, a random event triggered my eventual transformation: a Les Brown PBS special called "Live Your Dreams." Suddenly my life had meaning and direction. I wanted to work for a motivational speaker. Focused on my plan (and with connections from those seemingly random jobs), I landed my first job within a few weeks – marketing director for the leadership expert and author Betska K-Burr.
Betska was a wonderful mentor. The opportunities I found in that job furthered my skills and set me down my current path. For example, during my first trip to an NSA convention, I met several key people who would change the course of my career, including Peter Legge and Vince Poscente (who would become future employers) and Joe Calloway (who would have a tremendous influence on my business growth).
After ten years of experience as a speaker agent (including two where I handled exclusive celebrities and best-selling authors, including Joe Calloway at a Texas bureau), people began to ask if I would coach them. I knew exactly what it took to catapult a speaker from zero engagements to 80 within a short period of time, and speakers wanted to learn from my expertise. 
I knew it was time to take my career to the next level, so I sat down with my coach Rich Fettke, and we mapped out my entire future together. Once a carefree girl content with being a waitress, I was now ready to start my own coaching and consulting company, Speaker Launcher.
Tips for Telling Your Story
Now it is your turn. What story do you have to tell? What major life events stack up to make you who you are today? When you are using storytelling as a sales tool, you should keep these things in mind.
1. Outline the Structure
Your story should have a basic structure that people can follow. Sketch out a beginning, middle, and end first, then fill in the extra details.
2. Keep It Short
318. That's how many words I used to tell my story above. Share the essential details and leave out the fluff. If you can tell your story in fewer words, go for it!
3. Make the Connection
Once you have your story laid out, remember to connect it back to the potential client. It's not just about 'this is my story'…it's more like 'this is my story…and that is WHY I am perfect for this speaking gig." Spend time researching the potential client, so you know THEIR story too and can make the connection.
4. Practice
Share your story with friends and family to get feedback. If there are any ways to make it more entertaining, personal, and authentic, adapt, and try again.
Nailing your story can help you sell yourself to the next big client. What are you waiting for? Start sketching out YOUR story today!
See you soon Wealthy Speakers!