This year's Best Speaker Website contest brought us some fantastic examples of speaker websites. The process of narrowing down all the fabulous submissions was tough! And now all of your final votes are in… and it was the closest contest we've ever had! Thank you to the hundreds of folks who took the time to vote!
While this contest is a lot of fun, there are two main reasons that we run it:
To point out what elements are needed to create a compelling speaker website that gets you hired.
Probably most important, to get you thinking about what you might do to improve your own website and use the examples as a catalyst to start making those changes.
Take a look at not only the winner's site, but that of all of this year's nominees, to see some of the features that they are using that you like. You can then adapt them for your own website with your own spin! Our goal is not that all sites look the same, but that each has a personality that suits the individual speaker and the market you seek.
And now to announce the winner of The 2020 Best Speaker Website contest…
Jason O Harris. From my perspective, this website just makes the visitor feel good, and I think one of the main reasons is his branded color purple.  I looked up the psychology behind this is they said purple was "often associated with luxury, power, wisdom, creativity, and magic".
It's also got a very clear message: "Trust your People like Your Business Depends On It" is a great promise statement.
Jason doesn't overdo it on his differentiator, which is being a former U.S. Air Force Officer Special Operations Pilot, and I like the subtlety of that, but of course, that's subjective. A great video also comes with this website and we know that while the website tee's up the ball, the video is what hits it out of the park.
Well done on a winning video Jason O Harris!
Notes:  The screenshot doesn't do the site justice, so click on it to take a look at Jason's website live.  With this and other websites, you may see things that don't strike your fancy, but our voters pushed these sites to the top for a reason.  Try to take what appeals to you and leave the rest.
---
Here are the results of all the votes:
Here are some notes about our runners-up websites: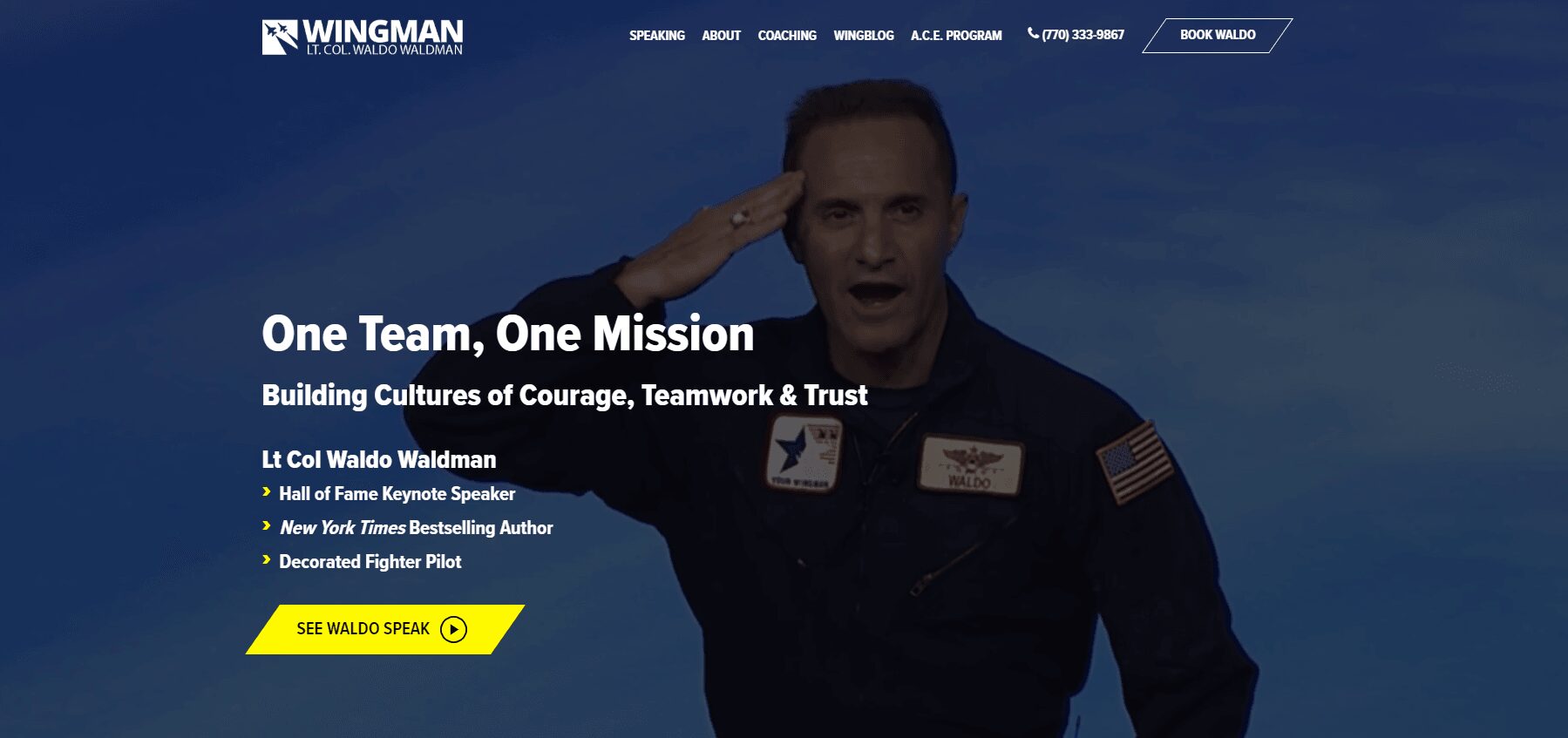 I love that you are getting two military people in the finals here because you can really see a very different approach with this website. But, this one also works extremely well. Waldo comes at his military background head-on. And his message, "One Team One Mission," is powerful. Another great video helps to drive this sale home to decision-makers. Really well done, Waldo!
Lauren's message is so clear and contains some interesting language (not surprising from a communications expert). "Learn to Harness the Art, Science, and Alchemy of Public Speaking and Communication." You don't hear "Alchemy" in a lot of promise statements – that will appeal to a more sophisticated buyer I'm thinking. But she's all about communication, and that message is clear. Strong video as well on this site. Another terrific contestant!
Our contest has been one of our best, and I'm so excited to have presented you with these ideas as samples of what's possible. If you are just starting, don't compare your beginning with someone else's 20-year mark. Many of these speakers have been working away at this awhile.
If you'd like to have a website review and strategy session, please book a Focus 40 Session with me, and we'll help get your plan in place.