In football, a triple threat is someone who is great at passing, kicking and running.  In entertainment, a triple threat is someone who can act, sing and dance.  Ryan Gosling for example. In the speaking business, a triple threat (in my terms) is someone who is great at stagecraft, marketing and selling.
Which ones of these are you great at? Or, do you think you are equally great at all three?
Breaking Down the Anatomy of a Triple Threat in the Speaking Business
I've been involved in the speaking business a long time and I've worked with a lot of great speakers. But finding those who are a true triple threat – well, it's kind of rare. Many speakers excel in one or two of the areas I mentioned, but always seem to struggle with the third.
That being said, these speakers can still be extremely successful.
Two of my clients Ryan Estis and Kindra Hall, are both triple threats.
Ryan Estis – Perfecting the Art of the Close
Ryan has a sales background so put him on the phone with a client and he's going to close the deal if it's a "right fit".  Beyond that, though, he is also a great marketer and stellar from the platform.
It is the performance from the platform that drives demand and keeps the phone ringing in Ryan's office.  It is then the process of moving those leads to close that keeps his calendar booked full.  When a call comes into his office, his team leader Lynn is fully prepared and ready to close the deal.  And if Ryan gets in front of that client, I almost guarantee he is going to make that sale.
Kindra Hall – Making Your Marketing Matter
Kindra has also created strong demand for herself in two ways. The first is her massive email campaign strategy, which launched her career. Her writing is so strong and so customer focused that her emails get opened. She sends out hundreds of emails to prospects, which plant seeds and checks the box for great marketing.
Secondly, and I feel her real secret weapon, is her speech on Storytelling.  The topic wasn't really on the radar of most corporate buyers when Kindra started, but the more they understood the power of story (to help them achieve their goals) through her truly awesome presentation, the more demand she created for herself.
Do you strive to become a triple threat in the speaking business? If so, which area do you need to work on?
1.  Speech
2.  Marketing
3.  Selling
Becoming a triple threat is going to take an investment in time (and possibly money) to strengthen the one area where you struggle. But if you make that investment and put in the hard work, you'll see a change in your speaking business that you may not have imagined possible.
If you want to learn more about exactly what Ryan and Kindra did to put themselves on the map so quickly and dive deeper into their actual strategies, I hope you'll consider joining us for Accelerate LIVE 2017.  There are only 10 seats left, so register today. It's the investment you may need to become a triple threat!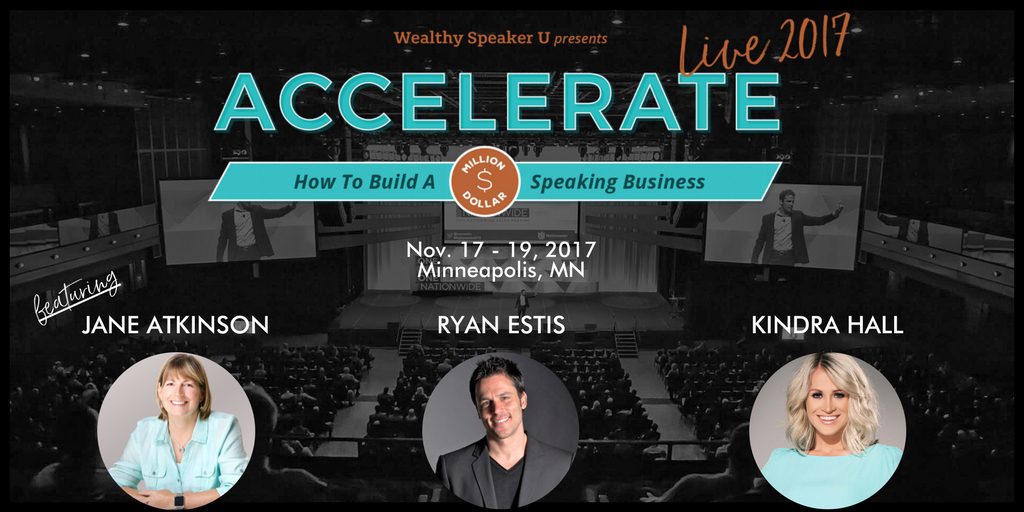 Share with us in the comments below – are you a triple threat? If so, own it and let us know! If you aren't quite there yet, tell us what you need help with!
See you soon Wealthy Speakers.