Let's imagine Covid is in our rearview mirror and you are standing in front of your ideal audience – a live audience (yahoo!). You have them at "hello" and you rock your talk all the way through to closing. Your stories are eloquent and your style conversational. You stand with confidence, yet allow your audience to see your humility. From the beginning they are with you, rooting for you. They relate to you and you to them.
You provide your audience with ideas that provoke thought, make them laugh, and make them want to take action, to do better. You give them tools that will allow them to grow and evolve.
When you exit the stage, the organizer pumps your hand and says that was exactly what they were hoping to hear from you. People line up for an hour just to shake your hand, take your photo, get your autograph and say hello to you. They tell you how much you have impacted their lives and what your talk has meant to them. They use your language when talking to you and will continue to use it for months, possibly years, later.
Not only did you have impact on this day, but this speech will last in people's minds for years to come. They will remember your words, your cadence, perhaps even the tone of your voice or the gestures you made. They will hear the sound of your voice as they go through life and will recall details of your talk or pertinent stories.
You have just given an "epic keynote." Congratulations!
---
These are the first four paragraphs of my book, The Epic Keynote: Presentation Skills and Styles of Wealthy Speakers. And I share them because they describe exactly what you need to strive for as a public speaker building a successful speaking business!
We talk about what it takes to be an epic public speaker quite often at Speaker Launcher and the Wealthy Speaker School. In fact, it's so important to finding success that we dedicate a whole month to the topic as a focus in the Wealthy Speaker School! 
Today I want to share four resources that you can access immediately to help you become an epic public speaker – whether it be on a stage in front of an audience or virtually through a computer screen!
4 Resources to Help You Become an Epic Public Speaker
Resource #1: The Epic Keynote: Presentation Skills and Styles of Wealthy Speakers [Book]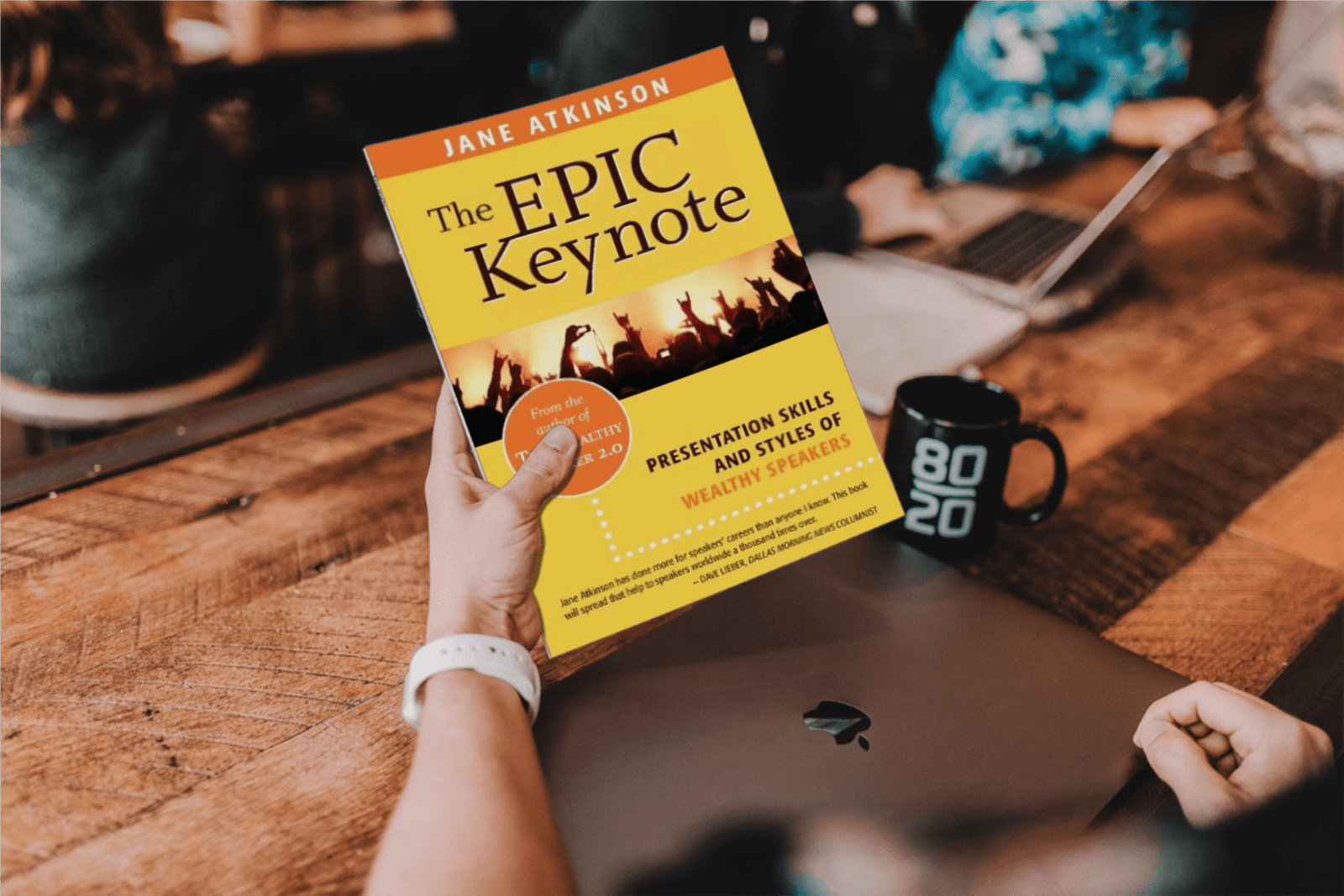 You got a little taste of the tone of The Epic Keynote: Presentation Skills and Styles of Wealthy Speakers above, but if you truly want to be an epic public speaker and prepare for when we are back on live stages, then you really should invest in the book. Throughout the 170 pages of the book, I walk you through exactly how to develop and deliver an epic presentation. And many of these ideas transfer to virtual. Using our Ready, Aim, Fire process, I walk you through each step and share real-life examples and experiences from other Wealthy Speakers who have mastered the stage.
You can learn more about the book and purchase it here.
Resource #2: Body Language for the Epic Keynote with Mark Bowden [Podcast]
Body language plays a significant role in turning your presentation from just 'okay' to EPIC! Body language expert and professional speaker Mark Bowden joined me on The Wealthy Speaker Podcast to share the basics of body language and how they impact your speech delivery. He shares the biggest error people make around body language and shares what gestures have the most positive impact on people. 
He also shares what speakers should be looking for in an audience's body language to know they are engaged and if mirroring body language really builds rapport.
You can listen to the full podcast here. 
Resource #3: Assembling an Epic Keynote with Patricia Fripp [Podcast]
Putting together a great keynote is a fine art. A good keynote likely weaves together elements of storytelling and dialog, much like a good Hollywood movie. 
Few people have a better handle on the art of keynotes than Hall of Fame speaker, Patricia Fripp. Patricia joined us on The Wealthy Speaker Podcast for an information-packed episode on how to put together an epic keynote that will capture the audience's attention and stay with them long after you've left the stage.
Listen to that podcast here.
Resource #4: Delivering the Epic Keynote with Joel Weldon [Podcast]
Hall of fame speaker Joel Weldon is one of the greatest stage performers in our industry. For over 40 years, he has been one of the most highly respected and sought-after keynote speakers and sales trainers in North America, as well as an Idea Consultant and Executive Speech Coach for some of the world's leading businesses. Companies that hired him four decades ago are still hiring him today because he gets results!
In this podcast, Joel shares the BIG mistake you need to avoid on the platform, how to use your intro to address the 'elephant' in the room, how to truly prep for your speech (hint – it's all about the audience)… and more.
Listen to the podcast here.
If you want to find success as a public speaker, you need to be epic! The resources above will definitely help you get on the right path to being a speaker that leaves a lasting impact on the audience.
Need more help becoming an epic public speaker? At The Wealthy Speaker School, we dedicate the whole month of November to becoming an epic speaker and creating an epic keynote. Through our group coaching and master call expert sessions, we take a deep dive into helping you become epic. Learn more here.
See you soon, Wealthy Speaker!