As I was scrolling through Instagram the other day, I came across a funny image that showed 1 out of 5 stars highlighted and the text: 2020 – "Definitely would not recommend!". That about sums up how many are feeling about 2020 as we start to wrap up Q3. But, while things certainly haven't been easy on the business front this year, not all is lost. Here's some insight into how you can still work to find success as a public speaker in 2020.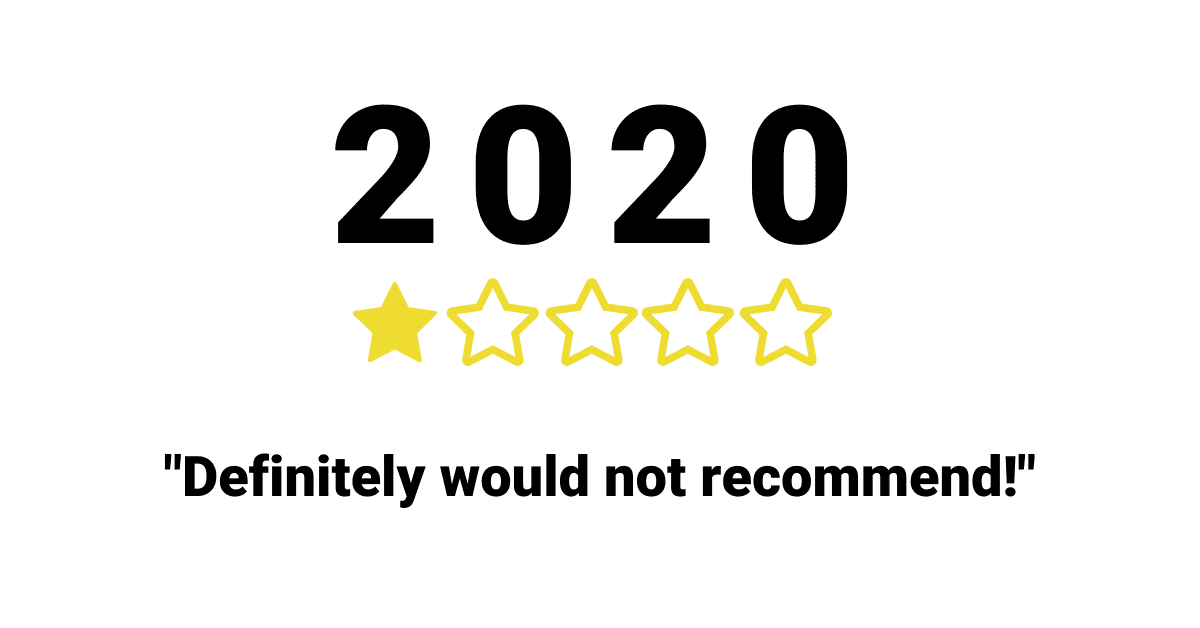 How to Find Success as a Public Speaker in 2020
Here at Speaker Launcher and at our Wealthy Speaker School, we've remained pretty positive despite what's happening around us. We've done so because while we've seen the speaking industry take a big hit to live speaking events, we've also seen a successful shift to virtual speaking gigs. And many speakers are getting paid their full fees for these virtual gigs!
Virtual Presentations
Wondering how to make that switch to selling virtual presentations? In a recent article on Speaker Launcher, we shared 4 keys to selling virtual presentations:
Check your mindset.

Sell the solution, not the delivery.

Sell packages.

Negotiate.
Those speakers who were quick to adjust to delivering their speeches virtually and jumped right in at the onset of the pandemic are now reaping the benefits. It's not too late to join the party! We'll be seeing a shift to virtual delivery for some time to come!
Adjust Your Mindset
Our mindset plays such a big role in finding success, no matter what's going on in the world.
Robbins Research International recently published a new report – the 2020 Business Owner Mindset Report. The first line of the report is perfect: "Business is a sport for gladiators, not the faint of heart."
The report revealed many insights into the state of today's entrepreneurs. What I found particularly exciting is that 52% of business owners are confident in their skills and 77% believe they will be able to grow their company through the next recession. That level of optimism is all about mindset and believing that you can. For those on the flip side of that optimism, check out this quick #SpeakerSuccessTip on how to flip your mindset!
Know Where to Turn for Help
In that same report from Robbins Research International, they discovered that many entrepreneurs don't have the tools they need to work more efficiently, which offsets their work/life balance. Despite lacking these tools, however, they are not giving up. The report discovered that entrepreneurs are getting coaching, learning new skills, and acquiring the right tools to set themselves up for success. 
In fact, 8 out of 10 small business owners surveyed note that they value regular coaching noting that the accountability, mindset training, and valuable perspective a coach provides puts them on the fast track to success.
We see this daily at The Wealthy Speaker School and Speaker Launcher.
At the school, those who are working through each lesson and regularly partaking in the monthly training and support phone calls are continuously moving their business forward. That's because they are invested and the group, and Coach Jen and myself make them accountable to their goals. Couple that with continuous learning opportunities and they have all the tools they need to succeed as a public speaker in 2020.
Finishing 2020 Strong as a Public Speaker
Where are you with finding success as a public speaker in 2020? Do you join the ranks of the 77% who are optimistic about growing their business through the recession? People like Carole Schulte, Frank Somma, Pamela Barnum, and Michelle May – all of whom are still aiming high in 2020 and making things happen.
Or do you need help building up your confidence so you can finish the year strong? We invite you to check out the many programs we offer at The Wealthy Speaker School and Speaker Launcher that can help. You can also grab a FREE copy of our Shoring Up Your Wealthy Speaker Mindset worksheet below to help you get started on the right track to success!
[optin-monster-shortcode id="gh5cxgfowibkhbpznmtp"]
Share with us in the comments below how 2020 has been for you and if you are finding success in public speaking!
See you soon, Wealthy Speaker!