When you've been around an industry for over 30 years, like I have, it is easy to spot and empathize with people who are going through growing pains. As a professional speaker, it is a part of the journey from speaking for free to earning 6 or 7 figures. Working through (and past) growing pains is much easier if you are able to put in place the right speaking business success strategies.
I've been fortunate to have a front-row seat and witness how these growing pains can shift, evolve and change as a client moves from emerging speaker through to seasoned speaker. Over the next few weeks, we are going to cover the common growing pains and success strategies at the three levels of speaker: Emerging Speaker, Intermediate Speaker, and Seasoned Speaker.
Today, we are going to cover the common growing pains and speaking business success strategies for Emerging Speakers.
Growing Pains and Speaking Business Success Strategies for the Emerging Speaker
If you are launching a speaking business, expect that you will have a lot on your plate. This is a business. While the learning curve for someone who has already started or run their own business may be slightly less than someone who hasn't, you will need to take time to learn about and understand the speaking industry. Just like any other industry, there are many processes and nuances you'll need to understand to be successful.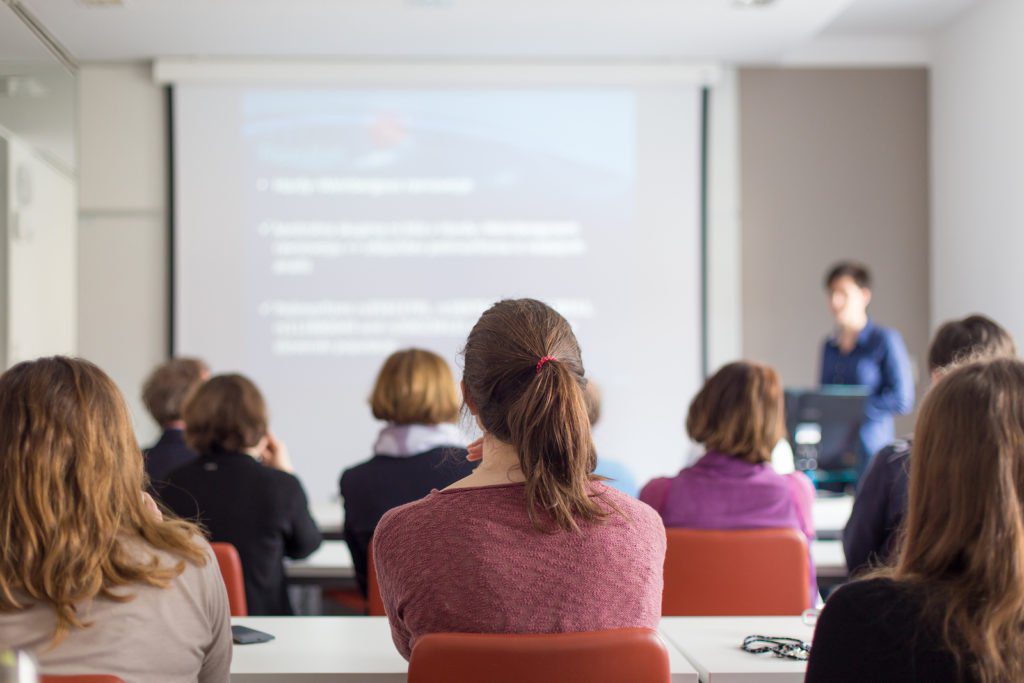 Let's take a look at five specific areas you'll need to concentrate on to ensure you get off on the right foot and can start booking business: Your Lane, Your Promise, Your Website, Your Content and Getting Booked.
Growing Pain #1: Picking a Lane
One of the first things that we cover with our new speakers is the idea of picking a lane. Your 'lane' will be the topic that you want to be known for years from now. If you want to win as a professional speaker, picking a lane is crucial.
Do you have a handle on picking your lane? If not, stop now and go through the steps needed to get clear about your lane.
I know that many speakers are reluctant to pick a lane. I see it all the time. There is a fear that if you narrow things down you'll miss out on business. If you don't want to pick a lane, just note that this will most likely end up popping back up for you in the later years because you haven't become known for one thing.
Speaking Business Success Strategy Tip: Here is Joe Calloway's take on picking a lane, which is helpful advice:
 "Essential to picking a lane is knowing what to say "no" to. We all get inquiries about speaking on topics that we could do, but that we know are out of our "lane. One of the worst things you can do for your business is to be the wrong speaker in front of the wrong audience.  Saying "no" to the wrong business creates space for the right kind of business!"
Growing Pain #2: Mapping Out Your Promise Statement
Your promise statement, or marketing language, can often be a tricky piece to navigate. Finding the right words for your website is important because you only have one chance to make that all-important first impression.
Your promise statement should define exactly what you'll deliver and be placed front and center on our website. It should clearly convey to a visitor what they'll gain be investing in you. This is an important step in building your speaking business, so don't skip it or just toss some words together to get it done. If you need some help, check out this blog post that walks you through the steps to craft the perfect promise and offers a worksheet to help you through the process.
Speaking Business Success Strategy Tip: When creating your promise statement, think 'clear' over 'clever'. I see a lot of speakers who don't put a promise statement on their website because they can't think of one that is clever enough. I would say that clear is better than clever any day of the week.
Growing Pain #3: The Website that Doesn't Sell
Your website is going to be your most powerful marketing tool when you start, so spend some time and dollars to get a good website in place. You are going to work hard to get prospective clients to find you. You don't want them to disqualify you because of your website (whether it be out of date, homemade, or lacking in clarity). This is a huge pain for an emerging speaker.
Take your time and get it right before firing it out to prospects. Here are some essentials you'll want to consider:
Clear Promise Statement: Can we tell within 15 seconds how you are going to help your prospects?
Simplified: Is your website easy to navigate?
Expert Focus: Does your website say "here's how we can help you" or is it old school and says "hire me; I am a speaker."
WOW Factor: Does your website have a great vibe or feel that makes us want to do business with you?
Video: Do you have a compelling video that shows people who you are and what you offer? (many speakers just starting won't have a video, but it should be on your list as a 'must' as you start to grow!)
Speaking Business Success Strategy Tip: Don't forget to include some list-building strategies into your website right from the start. Building a list of followers will be a great benefit as you grow your business!
Growing Pain #4: Producing Consistent Content that Highlights Your Expertise
If you want to be known as the expert in your field, you need to produce valuable content that shares that expertise with the world online. Do you have a blog? Is it up-to-date?
If the last post you published is 12 months old, that may show a prospective client that you are not a thought leader and that could take you out of the running for a gig. Be consistent with producing content that adds high value to those who you serve. By doing this, they will become your brand ambassadors and help you to spread the word, which will help to set you as the known expert.
Speaking Business Success Strategy Tip: When promoting your content on social media, narrow your social channels so that you can focus and really have good traction and interaction on two or three rather than doing a poor job of six.
Growing Pain #5: Trouble Filling the Calendar with Gigs
This is a growing pain that occurs at almost every phase of a speaker's career. One key that is helpful in pushing past this is defining what problem you solve and which markets (industries) need help with it.
If you can start and get paid in your own backyard, great!  Do it. If you can work on getting booked while maintaining your day job, also good. It can alleviate some financial pressure.
Speaking Business Success Strategy Tip: Once all of your marketing is clean, clear, and in place, develop a plan for consistently reaching out to prospects. That's what Kindra Hall did when she started – she made a plan to send out 600 emails – and stuck to it.
Building a speaking business is a journey. As an Emerging speaker, you'll face many challenges. Don't get discouraged. Stick with it. Take all the right steps and soon you'll see all the pieces fall into place!
If you want more help, we walk you through overcoming all of these hurdles in The Wealthy Speaker School. Way more than just an online course, the Wealthy Speaker School offers the support that emerging speakers need through group coaching, peer-to-peer community access, and more!
Come back next week to check out Growing Pains Part 2, which will focus on Intermediate Speakers or speakers who are off the ground in their business earning between $75K and $350K.
Stay tuned, Wealthy Speakers!